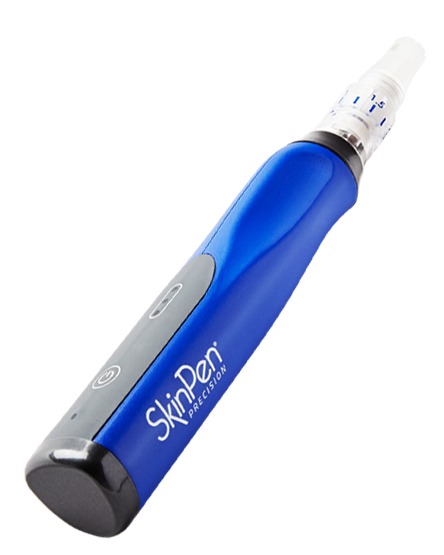 As we age the natural architecture of our skin deteriorates, which leads to fine lines, wrinkles, large pores and uneven skin texture.
Collagen induction therapy, also known as Microneedling, is a great way to address these signs of aging on a cellular level. Microneedling comfortably creates thousands of micro-injuries in the skin to trigger the body's natural wound healing process.
This results in skin remodeling, including the formation of collagen and elastic; the two proteins predominantly responsible for the structure of the skin. The outcome is beautiful, youthful looking skin.
There Is A Difference And It's Blue
Bellus Medical raises the bar with the SkinPen, the only U.S. engineered and manufactured microneedling device on the market with patent-pending, single use, sterile needle cartridges. Practices and patients now have peace of mind with a safe, superior device they can trust.  
What You Can Expect From Your SkinPen Microneedling Procedure
A comfortable facial
A short procedure time, approximately 30 minutes
A plan for optimal results
Mild post-procedure effects, similar to a mild to moderate sunburn
Effective on all body parts, including: face, neck, and decolletage
Safe for all skin types, light to dark
Ideal any time of the year 
Little to no downtime
Beautiful, lasting results 
Skin Conditions Treatable With Microneedling
Fine Line/Wrinkles/Loss of Volume 
Hyper-Pigmentation, Melasma, Sun
Spots
Acne/Acne Scarring 
Enlarged Pores
Stretch Marks